HPHT
---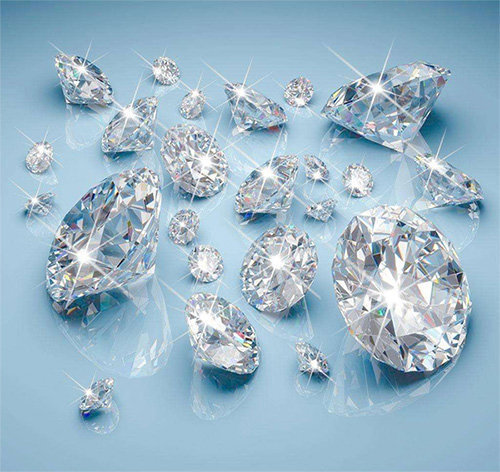 In the HPHT method, there are three main press designs used to supply the pressure and temperature necessary to produce synthetic diamond: the belt press, the cubic press and the split-sphere (BARS) press. Diamond seeds are placed at the bottom of the press. The internal part of press is heated above 1400 °C and melts the solvent metal. The molten metal dissolves the high purity carbon source, which is then transported to the small diamond seeds and precipitates, forming a large synthetic diamond.
The original GE invention by Tracy Hall uses the belt press wherein the upper and lower anvils supply the pressure load to a cylindrical inner cell. This internal pressure is confined radially by a belt of pre-stressed steel bands. The anvils also serve as electrodes providing electric current to the compressed cell.
A variation of the belt press uses hydraulic pressure, rather than steel belts, to confine the internal pressure. Belt presses are still used today, but they are built on a much larger scale than those of the original design.The second type of press design is the cubic press. A cubic press has six anvils which provide pressure simultaneously onto all faces of a cube-shaped volume. The first multi-anvil press design was a tetrahedral press, using four anvils to converge upon a tetrahedron-shaped volume. The cubic press was created shortly thereafter to increase the volume to which pressure could be applied. A cubic press is typically smaller than a belt press and can more rapidly achieve the pressure and temperature necessary to create synthetic diamond. However, cubic presses cannot be easily scaled up to larger volumes: the pressurized volume can be increased by using larger anvils, but this also increases the amount of force needed on the anvils to achieve the same pressure. An alternative is to decrease the surface area to volume ratio of the pressurized volume, by using more anvils to converge upon a higher-order platonic solid, such as a dodecahedron. However, such a press would be complex and difficult to manufacture.
In the center of a BARS device, there is a ceramic cylindrical "synthesis capsule" of about 2 cm3 in size. The cell is placed into a cube of pressure-transmitting material, such as pyrophyllite ceramics, which is pressed by inner anvils made from cemented carbide (e.g., tungsten carbide or VK10 hard alloy). The outer octahedral cavity is pressed by 8 steel outer anvils. After mounting, the whole assembly is locked in a disc-type barrel with a diameter about 1 meter. The barrel is filled with oil, which pressurizes upon heating, and the oil pressure is transferred to the central cell. The synthesis capsule is heated up by a coaxial graphite heater and the temperature is measured with a thermocouple.

---
Contact Us
Intersection of Jingjin Road and Weiyi Road, Luoxin Industrial Area, Luoyang, Henan, China
CONTACT
Add : A2102 World Trade Center, Luoyang City, China
P.C: 471000